A revolution in NFT art curation and the decentralization of SuperRare
Exactly 20 seconds past 11:20PM (UTC) on April 5th of 2018, the first artwork was minted on SuperRare. We know this precise time and date due to the innovation that makes SuperRare so exciting: our first transaction, like the thousands that followed it, was immutably preserved on the Ethereum blockchain.
1,229 days later, more than $90M in NFT art has been sold by over 1,400 artists on SuperRare. Hobbies became careers. Digital projects became valuable assets. The digital transformation of the art market is no longer a dream—it has arrived.
Unlike past artistic revolutions, this one affects more than the medium or style. It is a revolution of both form and function, curation and collection. The work itself is thrilling, dynamic and diverse, but we are equally excited about the opportunity unleashed by blockchain technologies: to put ownership in the hands of the artists, curators, collectors, and digital art community at large.
While momentum and excitement have been growing, the digital art revolution is still in its infancy. Today, it's taking its next big leap.
We are excited to announce a decentralized vision for the future of digital art, that puts the power where it should be—in the hands of the community. We began by helping spark a revolution for art. Today we spark a revolution for ownership.
Welcome to SuperRare 2.0. Not a humble update, but a seismic shift driven by three major product advancements:
SuperRare Spaces: Independently curated storefronts on SuperRare. For the first time, curation (and commissions) will be opened to new voices chosen by the SuperRare community, and beyond the SuperRare Labs core team.
SuperRare DAO: A decentralized organization governed by $RARE holders and the SuperRare Governance Council tasked with overseeing SuperRare Spaces, the community treasury, and the platform's future. The SuperRare Governance Council is a group of nominated community members that implement decisions based on the votes of $RARE token holders.
Sovereign Smart Contracts: Independent artists on SuperRare can now deploy custom smart contracts and import artworks minted elsewhere.
And finally, we're excited to announce the release of the instrument through which Spaces and the DAO will be governed: the $RARE curation token.
$RARE marks the first step in our ongoing commitment to progressive decentralization and continued disruption of the art market.
SuperRare's mission has always been to empower the next generation of artists through technology, enabling beauty and inspiration for the world to enjoy. And already, many SuperRare artists have risen to become familiar names in the world's most prestigious galleries and collections. In the near future, we expect that the next great artistic talent will not be discovered by a gallerist or gatekeeper, but by the community of $RARE curators.
These are the broad strokes, but there are many more details to share and discuss. The following sections describe what we believe to be the most inspiring vision for the future of SuperRare based on the trajectory and momentum of this growing community. Find a comfy chair, fix yourself a spicy beverage, and find out how you can be a part of the revolution.
Introducing $RARE
Thoughtful, high quality curation is the single most important element of SuperRare's past and future success. Until now, every artist on SuperRare has been selected by the SuperRare Labs team, creating an artistic community with a reputation for quality and innovation.
This, however, must evolve.
While we're incredibly proud of how the SuperRare Labs team has led curation over the last 3 years, we also recognize we're not the only ones with an eye for undiscovered talent and artistic value. Nor should we risk becoming the digital version of the gatekeeping galleries we sought to disrupt. Therefore, the $RARE curation token is a means to identify and empower new curatorial talent in the SuperRare community.
The $RARE curation token will be used as the primary vehicle to onboard a growing network of curators, galleries, and collectives - all functioning as SuperRare Spaces: independently curated storefronts on SuperRare.
These curation decisions will be enacted using token-based voting with the community's participation and implementation by the SuperRare Council.
Finally, SuperRare is expanding to become a multi-contract platform - enabling artists to create custom, bespoke NFT minting contracts through a feature we're calling Sovereign Smart Contracts.
SuperRare Spaces
Spaces are community-vetted galleries for curators, collectors and community members to highlight and release work through SuperRare.
Each Space is overseen by a designated operator (or operators), chosen by a community vote of $RARE holders. Elected operators will choose and onboard their own artists, market as they see fit, and earn commissions on all sales through their Space.
The SuperRare DAO also earns an on-chain commission on sales from Spaces, giving token holders a direct incentive to pursue high quality curation of all Spaces added to the network. $RARE holders will be invited to vote on which spaces should go live next in a recurring vote. This will be  known as the Space Race (h/t to the Mirror $WRITE RACE who inspired this game mechanic).
We envision Spaces as the future of community-driven art curation—a vibrant ecosystem of curators, artist collectives, galleries, and community members, onboarding artists and collaborating on auctions, under the shared brand and technology of SuperRare.
SuperRare Spaces mark the first way in which $RARE will fuel the continued growth of SuperRare. More information will be released in the coming weeks.
SuperRare DAO
In the spirit of progressive decentralization, SuperRare has begun routing all platform commissions and fees to a newly formed SuperRare DAO. Moving forward, the treasury will  always be viewable at superraredao.eth.
This community treasury containing $ETH and $RARE will be overseen by $RARE token holders, and governed by the community.
SuperRare has appointed a genesis Governance Council to oversee the funds stored in the SuperRare DAO upon launch. The Genesis Governance Council will enact the decisions of token holders, and provide a layer of security over a potentially massive amount of commissions that will be routed to the DAO from now through the end of history.
Decentralization has been at the center of the SuperRare ideology since day one. During the early stages of platform development, it was practical to keep governance decisions internal, driven by the vision of an agile founding team. However our baby is now all grown up, and ready to face the world on its own. As the expression goes: if you love something, set it free.
SuperRare is now in the hands of the community.
Sovereign Smart Contracts
We believe that artists are sovereign actors and should control their own destiny. Thus SuperRare is expanding to become a multi-contract platform, enabling artists to create custom, bespoke NFT minting contracts we're calling Sovereign Smart Contracts.
This means that in addition to minting SUPR tokens, independent artists on SuperRare will be able to mint their own artist or project-branded tokens.
Claiming the $RAREdrop
Our commitment to a decentralized vision has never wavered, and today we are taking the first steps to transfer ownership in SuperRare to the community that has helped us get here.
If you are a SuperRare artist or collector, congratulations! As of today you are a part of the platform.
150,000,000 $RARE - 15% of the total supply of 1 billion $RARE -  is now available for claim by the SuperRare community.
The $RARE contract address is 0xba5BDe662c17e2aDFF1075610382B9B691296350.
Please triple check that you are interacting with the correct address as there are likely to be malicious actors looking to take advantage of this development.
To see if you're eligible for the airdrop, GO HERE.

Eligible participants will have received a personalized email recapping your presence on SuperRare to date and detailing the amount of $RARE you can claim.
The $RAREdrop was calculated as a mix of core actions buying and/or selling art on SuperRare prior to the cutoff date of July 21, 2021.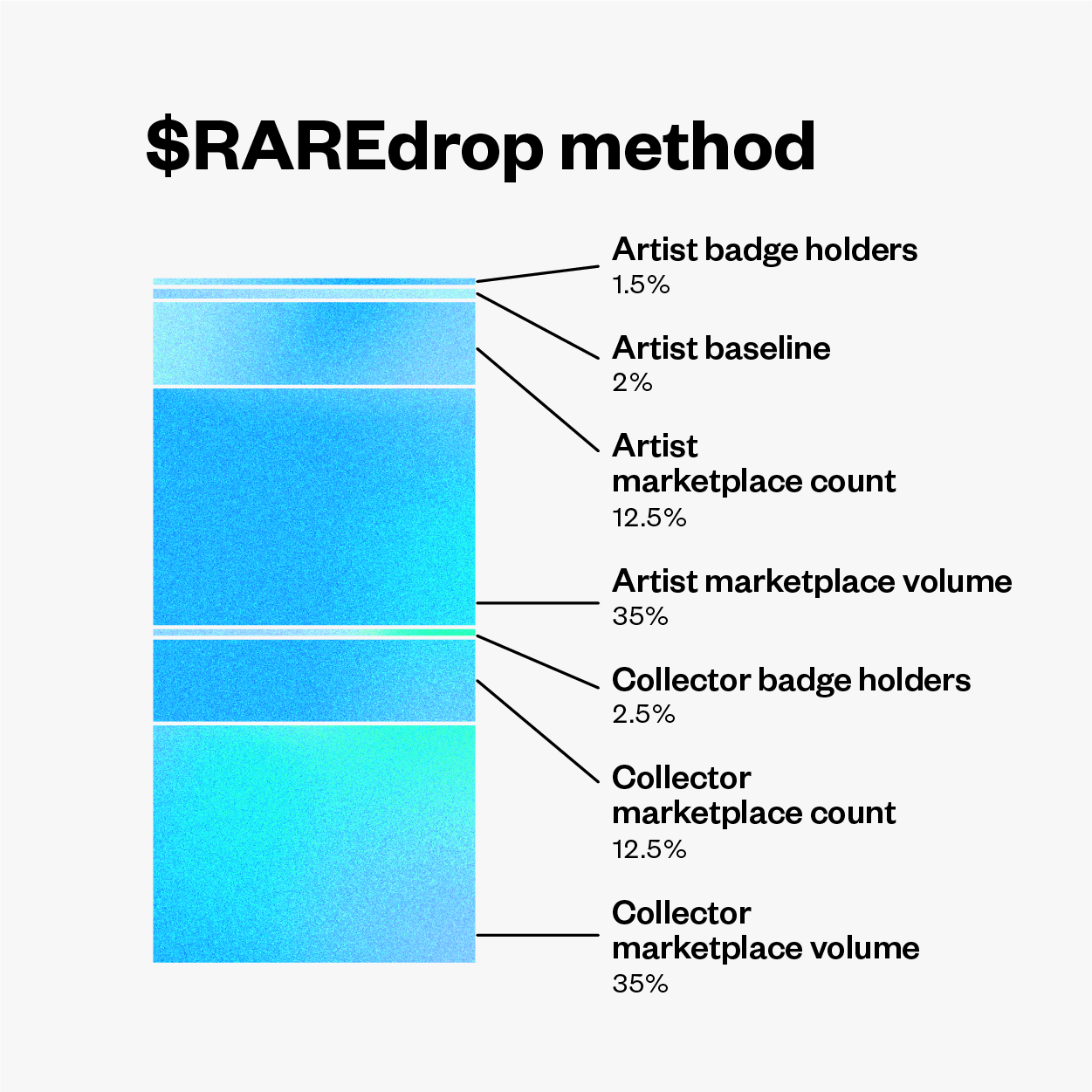 The primary goal of this airdrop is to reward those who have been most influential in the platform's commercial success to date, while also rewarding those who produced artistic value over a longer time horizon—regardless of the size of total sales. But the job is far from finished. We expect and hope that the $RARE token recipients are incentivized to continue developing, governing and adding value to the SuperRare ecosystem moving forward.
Eligible participants may claim their tokens within a 90-day window from this announcement, after which any unclaimed tokens will be reverted to the community treasury.
This is an exciting time to be a creator and collector, and we can't wait to see what comes next as governance is turned over to those who create value in the network.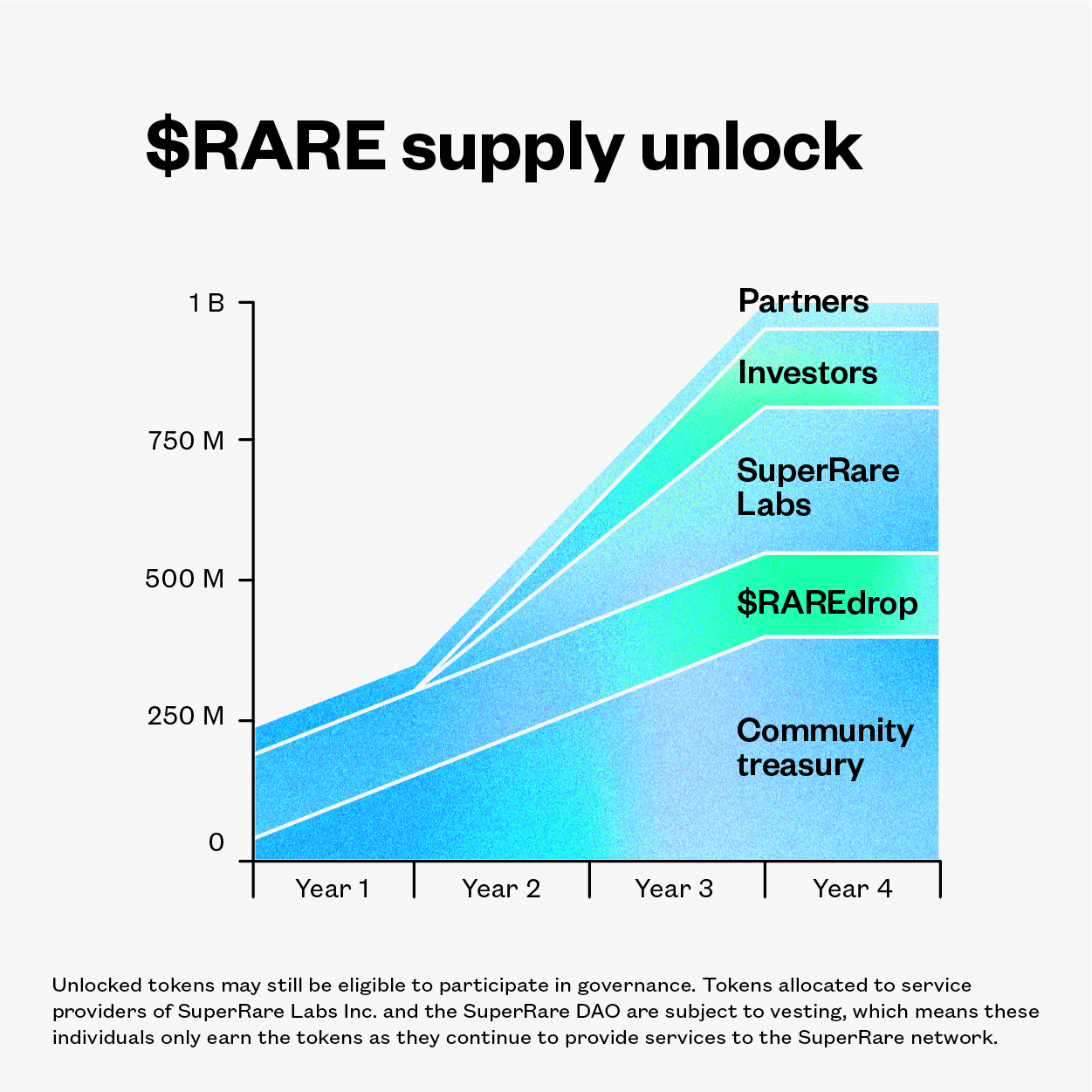 For more details on the token distribution, unlock schedules, vesting and $RAREdrop mechanics, please read the SuperRare Network docs.
What comes next?
That's up to you—and the community of $RARE owners. Shaping the future of digital art is no small responsibility. Are you ready?
Please join us on Discord, where we've created a gated hub solely for $RARE holders. Unlocking these channels is simple: open our Discord and type !JOIN in any public channel.
After verifying your holdings with the CollabLand bot, you'll soon be chatting with fellow $RARE vanguards to begin authoring the future.
We would like to take this moment to recognize all the artists, collectors and curators who have played a pivotal role in making SuperRare what it is today. Without you, SuperRare would not have become a pillar of the CryptoArt ecosystem that we all know and love.
As exciting as the last three years have been, it has been little more than the planting of seeds. The future of SuperRare and the CryptoArt community as a whole has yet to be written, and we will take this journey—and build this digital renaissance—together.
Our world and our species benefits immeasurably from artistry and creativity, and we'll strive to unleash it for creators, collectors, and even casual observers to enjoy.
This is all moving fast. Follow us on Twitter at @SuperRare to stay up to date on news about $RARE, the SuperRare DAO, Spaces, and everything in between.
Don your robes. Grab your gavel. You will decide on the future you want to see. Welcome to the SuperRare Network.
To see if you're eligible for the airdrop, GO HERE
Learn More
Watch the announcement video here
Read the SuperRare Network docs here
Join the $RARE holders Discord hub here Open Discord and type !JOIN in any public channel. After verifying your holdings with CollabLand, you'll be chatting with fellow $RARE vanguards to begin authoring the future.
FAQs: here